Finding the best method to ship hops can be a struggle in the warmer months. Carriers get backed up, ETA's change and guaranteed delivery dates do not seem to exist. At Mill 95, we put so much focus on maintaining the quality of our product, and strive to produce the best quality hop pellet that we can. How do we maintain quality? We perform quality checks at various points in the receiving and production processes and one of the most important things is to keep the product cold. When we receive the hops in bale form they are put into the cooler as quickly as possible, and the same goes for the finished pellets. Our pellets are stored in temperatures ranging from 30-32 degrees Fahrenheit, and our goal is to maintain that quality through delivery to your brewery.  
We conducted an experiment with 3 Floyds Brewing to determine the effects of higher shipping temperatures on the alpha, beta, and HSI of three varieties. The results show a general trend of HSI increasing and alpha acid decreasing (see graphs). Hops shipped at 90 degrees Fahrenheit will lose anywhere from a half to one full percentage point of alpha acids over the course of seven days. With shipping, there are many temperature fluctuations between warehouses, shipping containers, loading docks, etc. Another useful study to show temperature effects is a study conducted by the University of Vermont, Effect of Climate on Packaged Hop Quality.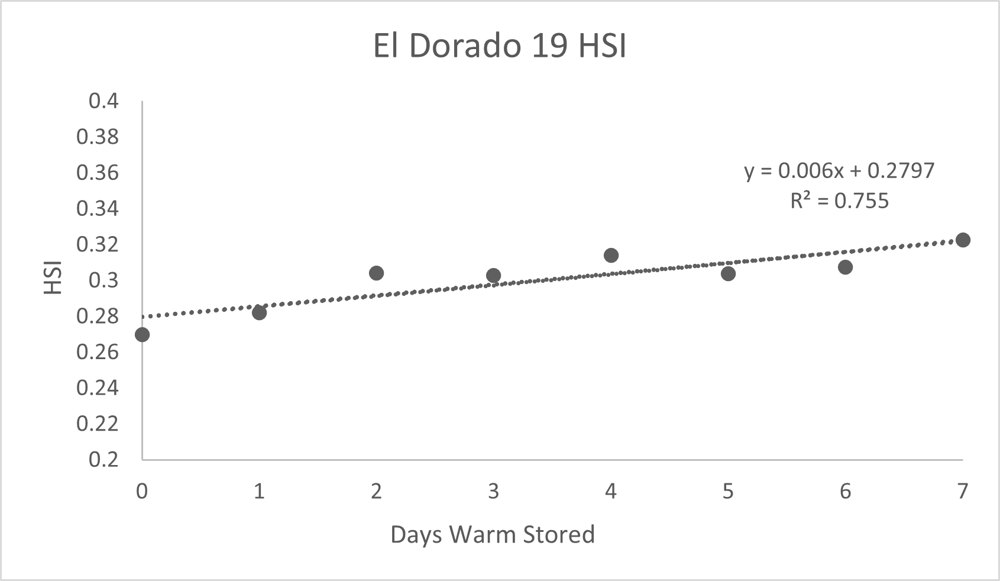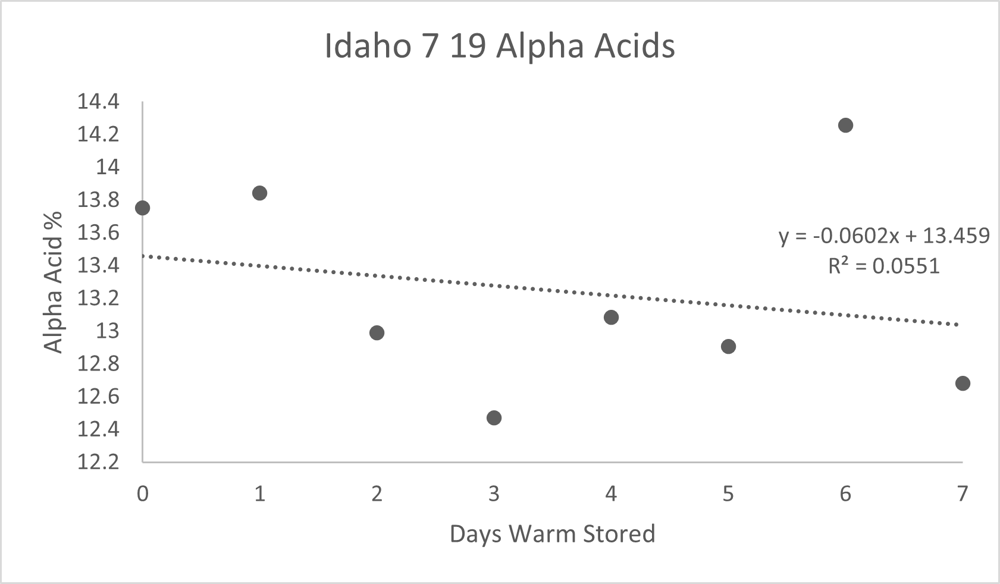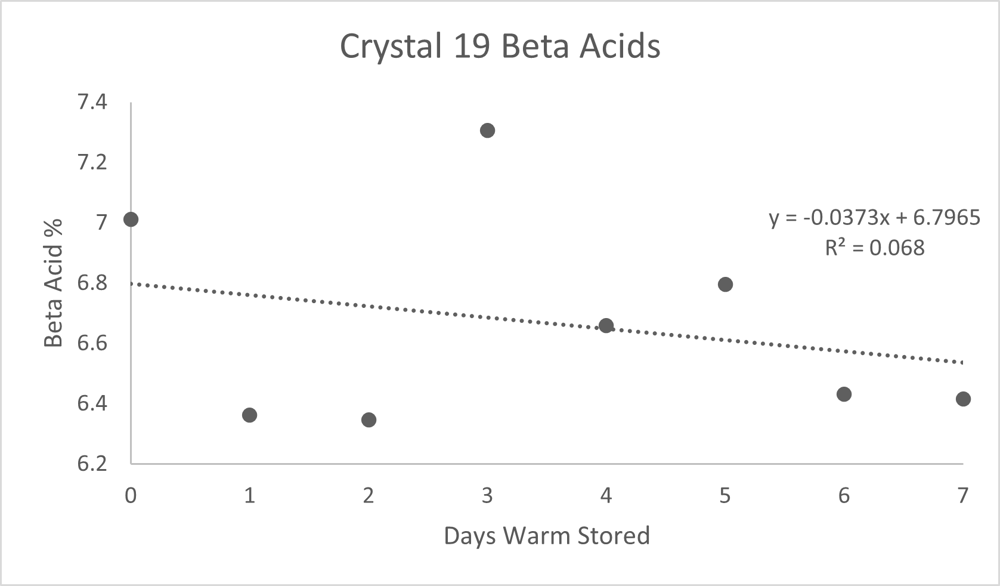 We do our best to provide shipping options so that our customers receive quality pellets. The best option for shipping hops is by refrigerated truck. As with most things shipping-related, the cost can fluctuate depending on a few factors. Comparisons have shown that shipping LTL by reefer will be two to three times the cost of dry shipping (on average).  Since we understand that an increased cost of shipping is not always a viable option for our customers, we also provide a temperature-controlled LTL carrier option. These carriers provide a temperature-controlled environment between 50-65 degrees, which is a better option than 90+ degrees Fahrenheit in the summer months. On average, the cost of temperature-controlled shipping is two times higher than dry shipping. Another option is using a Pallet Parka. A Pallet Parka is an insulated blanket that helps slow the warming process during LTL dry shipping. Mill 95 offers them to customers at the nominal cost of return shipping of the parka. Lastly, with storage capabilities and planning, hops can be shipped in the cooler months so that they are already on-site during the hotter months.  
There is no one-size-fits-all solution when it comes to shipping hops. What we hope to do is provide education and options so that you can make an informed decision on what will work best for your brewery.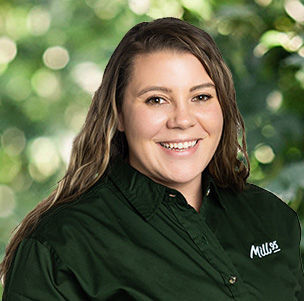 Author: Suzy Gibson, Quality Associate, Mill 95
Suzy Gibson is the Quality Associate at Mill 95. Suzy believes that to provide quality products quality work must be put in. She grew up in an agricultural community and has worked with various crops. She holds a B.A in horticulture with goals to get her master's. Suzy has a passion for all things plant related and a desire to continue to learn. Suzy is excited to continue her journey with Mill 95 and for the opportunity to grow as an employee/individual.