In the fall of 2015, while hiking in northern Idaho, Tim Sattler stumbled upon a hop. The hop was growing in an area cultivated by 19th and 20th-century minors and loggers, and it caught Tim's attention. The average person may never have noticed the plant, but Tim had founded Yakima Quality Hops two years earlier. Tim knew hops.
Tim also knew that tiny breweries and home brewers operated out of that area of Idaho in the late 19th and early 20th centuries. In those days, this part of Idaho was known for mining, with its neighboring woods having been dubbed the Silver Valley for its deep silver deposits. Beer and brewing were integral parts of the mining culture. Brewers back then grew their own hops, mostly using rhizomes imported from the UK in addition to whatever (often unappetizing) indigenous hops they could find. The odds of this hop being anything new were slim, and the harsh growing conditions in which it was found did not portend a buzzworthy hop anyway. Tim walked away, leaving the hop where he found it, untouched.
And why wouldn't he? From a supplier standpoint, developing a new hop takes a lot of time and money, often for little or no gain. Contemporary brewers have nearly 300 hop varieties at their disposal, most of them forgettable.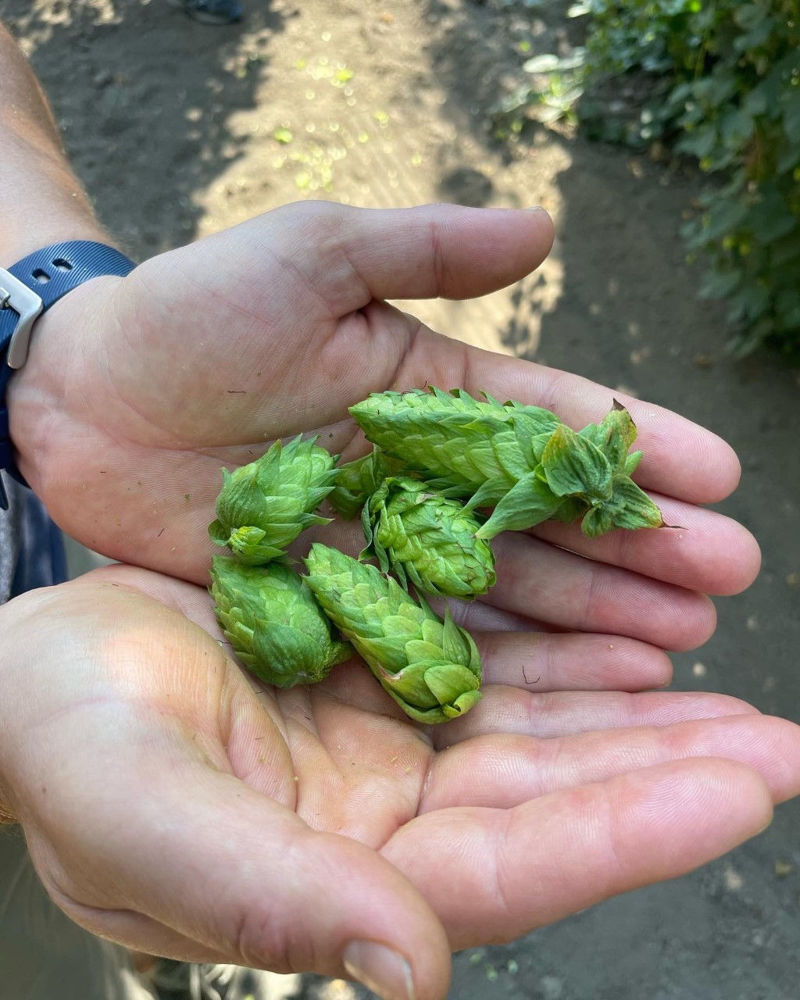 As a former professional brewer, I remember the days when I was excited to use an experimental hop. Following the release of Citra (2008) and Mosaic (2012), we were all looking for the latest, fruity, maybe even affordable hop to set our beers apart from those of our competitors. With only a couple of experimental hop releases annually, I had fun playing roulette every six months. But by the mid-to-late 2010s, I couldn't keep up with the number of new hops coming out and being advertised as the "next big thing." After a few years of mostly humdrum results from brewing with new hops, I was done being the guinea pig. I wrote off experimentals.
Tim continued to return to that same piece of land, as he had for nearly 40 years since his father introduced him to it. After two more years, he finally pulled off some cones to rub and smell. A couple of years later, after repeated rubs suggested bright, tropical notes, he wondered if he were on to something special. In 2020, he brought the hop back home to Yakima to undergo genetic testing. Much to his surprise, Tim had discovered a brand-new, genetically unique hop, its parentage unknown.
In 2021, Tim enlisted Leo Gasseling & Sons (Wapato, WA) to grow half an acre of this new hop, now dubbed YQH-1320 EXP (the numbers indicate the birth dates of Tim's children). Test batches produced by selected breweries showcased its clean, bright, and tropical-citrus character. The hop was a hit among the test brewers, and beer industry insiders took notice.
A year later, Tim went all-in on YQH-1320 EXP. CLS Farms (Moxee, WA) and Leo Gasseling & Sons combined to plant more than 60 acres of it, a big bet for an experimental hop that had yet to receive significant national recognition!
Meanwhile, YQH hired me to launch their sales wing, hoping to capitalize on the buzz that YQH-1320 EXP was generating. Having been burned by experimental hops for years, I was skeptical and nervous. Like YQH, I have a reputation for being candid with my industry mates. Hyping up a hop I had never used nor tasted in beers felt more difficult than any 70-hour production week.
But at the 2022 harvest, my own sensory analysis of the hop, both on the bine and in bales, surprised me. It was intensely tropical, with strong notes of bubblegum and citrus fruits. When I compared the YQH-1320 EXP leaf to other notable, popular hops, I discovered that YQH-1320 EXP matched or exceeded their fruit characteristics. My skepticism abated. I was a believer.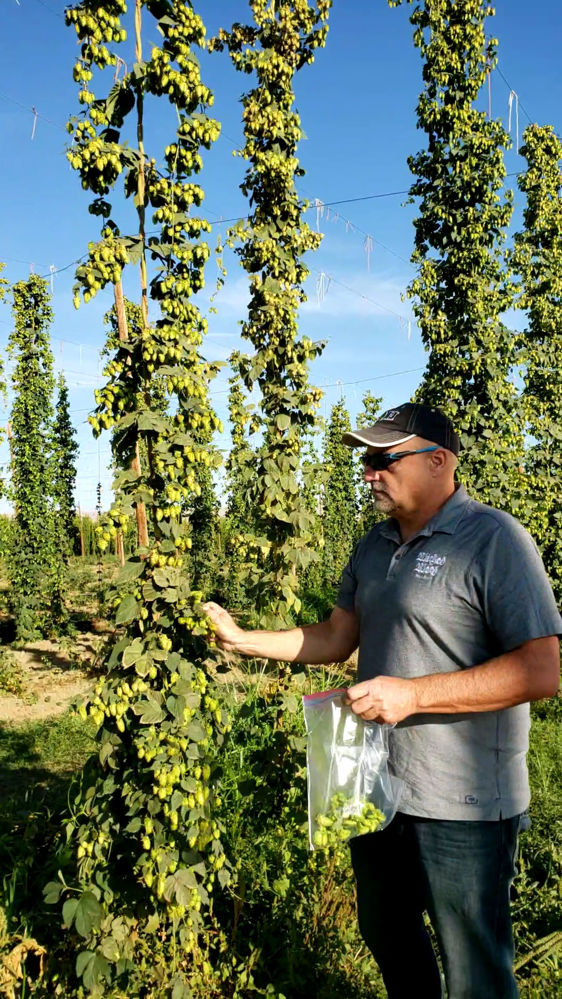 And then, the reviews from brewers started coming in...
"Excellent balance of citrus and tropical fruit aromas with some really nice complexity all on its own."
"YQH-1320 is complex and well-balanced across tropical fruit flavors, especially pineapple, tangerine, and mango. It has some wonderful New Zealand characteristics, and the alpha acid is in the sweet spot for me."
"YQH-1320 has a really nice, well-rounded bouquet and offers some sweet/ripe citrus, guava, mango, and light peach. Lemon and tangerine are the dominant citrus notes to me, but without pushing the limits of smelling like Pledge. We're getting some nice floral notes in there, maybe something like fresh jasmine flowers. All in all, we are very excited about this hop."
"Just wanted to let you know that our beer using the 1320 hops came out great. It's been the top seller both here and at [another brewery], whom we collab'd with for the beer."
"Our single hop 1320 is on tap and tasting great! I'd say if I had to compare it to a hop blend, it's like a more lime zest Citra-type hop with a hint of Cascade and some NZ Nelson."
"YQH-1320 is a home run full of dank citrus rind, pine, and ripe white peach flavors. … Turns out, this new hop is downright delicious."
Clearly, YQH has something special.
YQH-1320 EXP lacks any onion, garlic, earthy, woody, or "off" flavors. Its moderate alpha acids (8-9%) make it an ideal whirlpool hop for citrusy IPAs, and its singular complexity allows it to function as a top choice for single-hop beers. I find that YQH-1320 EXP brightens hop-forward beers, but its subtle, underlying floral and herbal aromas work well in summery lagers and farmhouse ales. Perhaps due in part to its origins, I liken the tasting experience to a picnic on a warm, sunny day in a glade, with fresh fruit as a dessert.
What's more, its adaptability to those harsh, sweltering growing conditions in which it was found helps it stave off mildew and disease, and we anticipate YQH-1320 EXP being a high-yield hop. That's great news for brewers because high yields mean lower costs. A clean, fruity, versatile hop at an affordable price? Talk about an incredible find!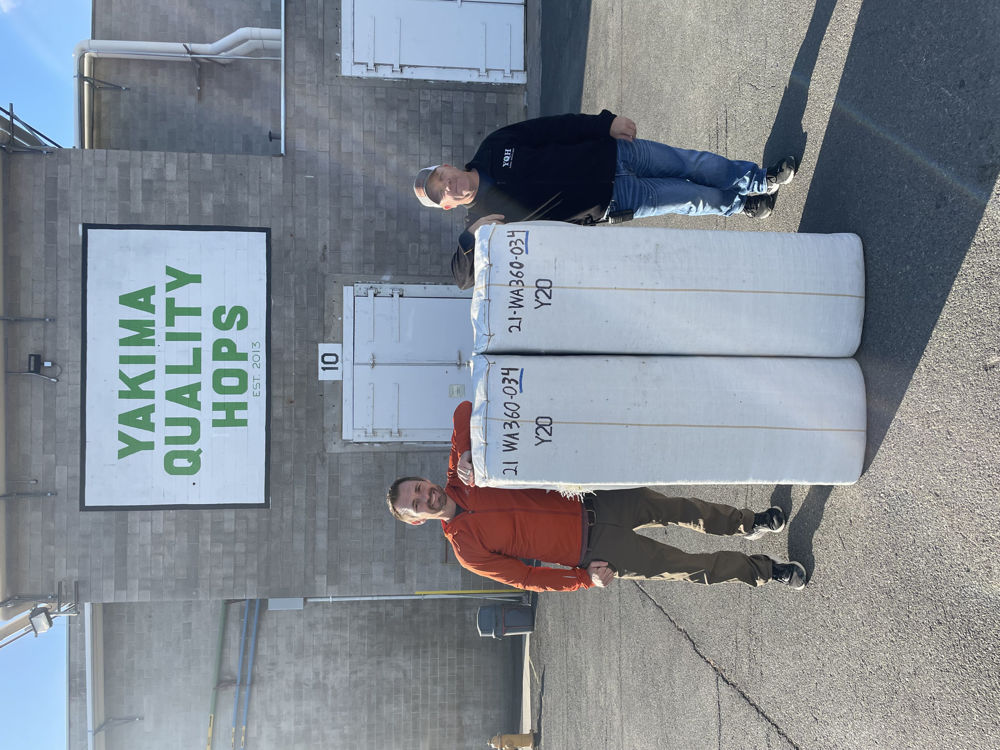 Because Tim discovered a hop never before seen or identified, YQH-1320 EXP will soon become a rarity in the hop world – patented. That's another big bet on the staying power of this delightful hop.
For those attending CBC in Nashville, expect to find a few beers around the Convention Center and the city showcasing our hop. Until then, we look forward to seeing (and tasting!) what talented brewers around the country do with YQH-1320 EXP.
Author: Tyler Cox, Brewery Resource Manager, Yakima Quality Hops
Want to get your hands on some YQH-1320? SHOP NOW