The rental car I've just driven up down and all around a dirt forest service road into the Sawtooth Mountains to soak in natural hot springs earlier that day is struggling to keep up with the tan pick-up truck I'm following through flat farmland on my way out to the Mill for the first time. I will make this drive many times over the next couple of days, but I will never forget the picturesque first sunset drive out there. Just me in the rental car watching the fields turn from dusty potatoes to sugar beets and onions wondering when the trellises covered in bright green hop bines will first appear. I catch myself fixated on specks of dust glistening in the golden hourlight when I see the first field, marked with a wooden sign that reads "Cascade" and I gasp. We are really, finally here.     
I'm in Southwestern Idaho, in hop country, and it is the peak of the annual five-week-long hop harvest. At a lovely reception, we learn the history of Mill 95 and why its founder chose to open a hops processing plant in the idyllic Treasure Valley in 2016, which I can't help but note, is the same year I entered the brewing industry. Thanks to the generosity of the Mill 95 team, I'm here with a group of brewers from all over the US. I assume I'm here to learn all I can about where hops come from and how they're processed. For years I have ogled over fellow brewers' social media accounts when they fly out for selection and post the rapidly moving conveyers and the fields full of green cones as far as the eye can see. I'm so ready for my turn. To stop wishing for "smell-o-vision" through a phone and to take it all on for myself finally.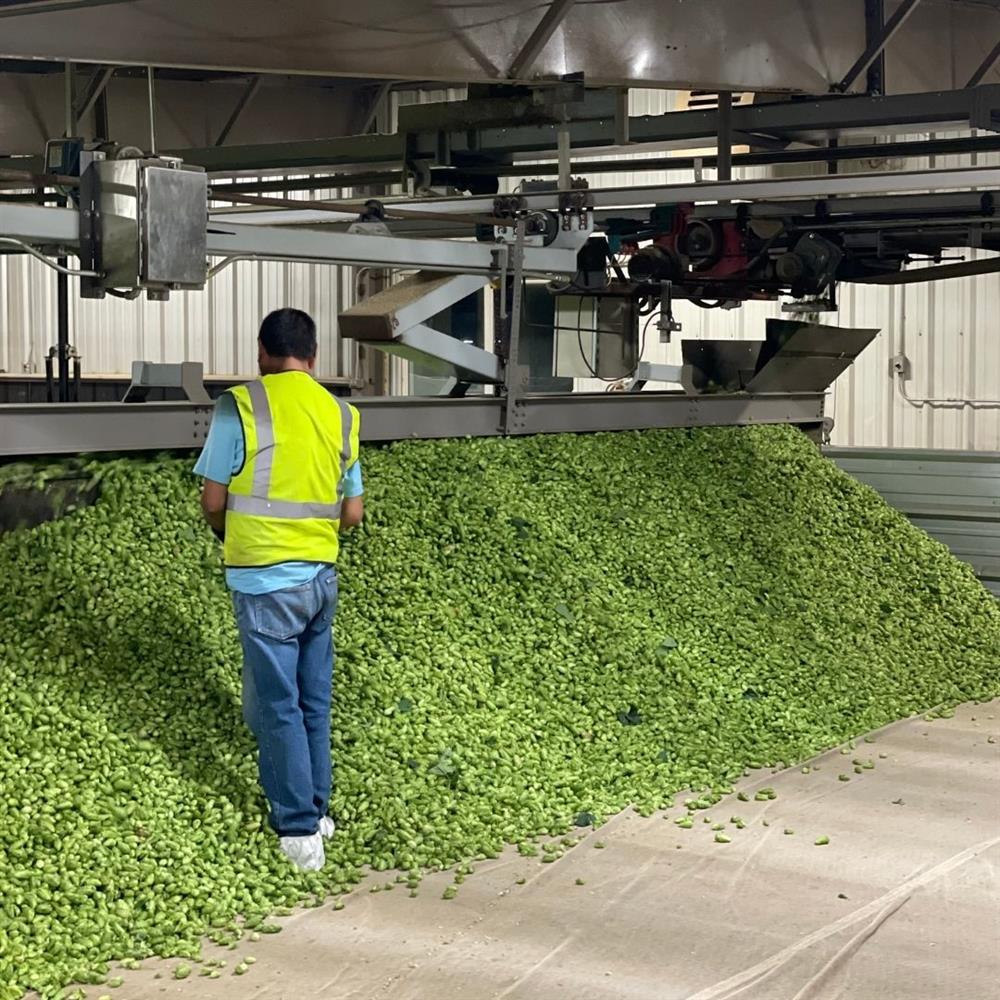 The next day, I find myself riding shotgun in a 12-passenger van that's kicking up dust driving through hop fields. I laugh to myself thinking how much more extreme this is than me driving my rental car up the mountain the day before. The farmer's truck in front of us comes to a sudden stop in a field of Mosaic and the brewer riding shotgun of that vehicle opens his door and out falls the biggest onion I have ever seen. Through the rolled down window I've been holding my hand out of all day, I hear him ask "Do you want to hold on to this?" and then watch him toss the vegetable back in the cab of the pick-up.   
The van comes to a stop, and we take in all the sensations while watching a top cutter remove the hop bines from the trellises. In this field, through controlled breaths and recognizing all the smells, sounds, and other sensations, I center myself and find balance. We have toured multiple farms by this point, and I am coming down from the most overwhelming, sensory overload I've experienced in a while. 
The machinery I was so eager to see is loud and moves extremely fast. The drying rooms are 130+ degrees. I went from a brisk high desert morning wearing a hoodie and upset about forgetting my beanie, to sweating through my t-shirt in a matter of seconds when walking through certain parts of the facilities. As we weave our way through the pickers, mouth open wide watching the machines separate hops from bines and move them along conveyor belts while they separate out the leaves and stems, I cannot help but wonder how a person gets used to working in this environment.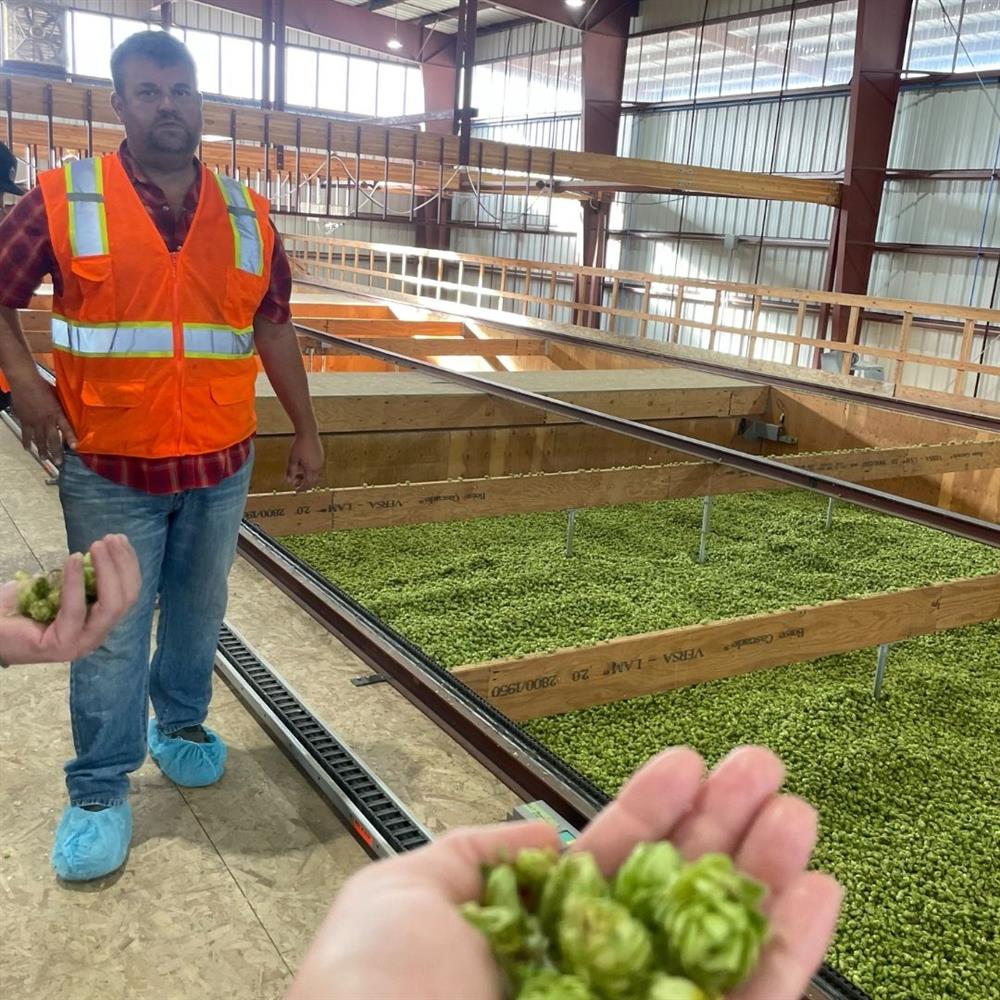 We tour another facility, one of the cleanest and smartest places for work-flow that I have ever seen, and we hear about a fire that burned the first-generation hop farmers' warehouse to the ground a decade ago. At another farm, I notice a 5th wheel camper parked outside the facility and someone asks who's staying there. "I am," the owner of that farm states matter-of-factly. He goes on to say, "If something breaks and we're down at 3 AM, it's better if I'm already here to fix it."  
That night, after a beautiful dinner at the Mill with farmers, workers, and processors, we gather under an iconic tree sipping "hoptails" made with Mezcal sourced from one of the workers on the farm after being treated to a taste of harvest at night. Watching the cutters methodically make their way through the fields under a nearly full moonlight was truly impressive, but it was the way that the owner of this farm knew and called every person we encountered working that night by name that really stuck for me. We stand and watch someone in the drying room physically act as the last line of defense before the hops are baled. I stand there for what feels like a little too long captivated by the patience and grace of this man who spends hours a day in that hot room picking out sticks.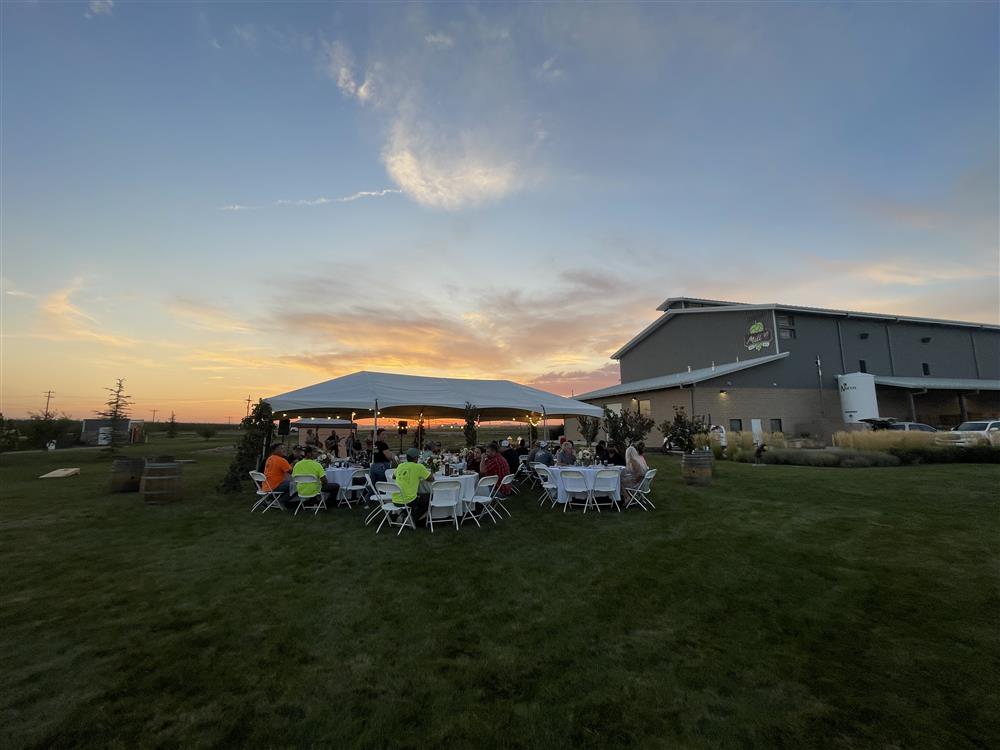 Finally, the next day, we get to tour the pristine Mill 95 while they're processing Idaho Gem. The piney smells are insane, and I don't think they'll ever wash out of my clothes, but I'm not complaining. The operations manager who designed the space himself gives us an impressive tour of the facility and we watch as fresh hops picked just days before are pelletized right before our eyes. We meet the quality control team, and I volunteer to see what it's like to take a core sample out of a bale they've just received from the farm we were at just the night before. I watch the truck pull away and recognize it is Diane herself, the owner of that farm, driving the truck that morning. She really does it all. They all do. Around the clock, non-stop for as long as it takes. It is such a labor of love, and it's all for us brewers to be able to use the best hops we can in our beloved beer.  
Throughout this experience, I learned that just like in brewing, there are many different ways we can all work towards the same end goal of producing a high-quality product. Different machines, systems, SOPs, and values all drive those processes. But the humaneness behind those systems is what sets us all apart—what makes our products uniquely our own.   
With so much magic to be found across all the western Treasure Valley farms, it is no wonder that Mill 95 was established with the intention to process hops and capture them as locally and optimally for the product as possible.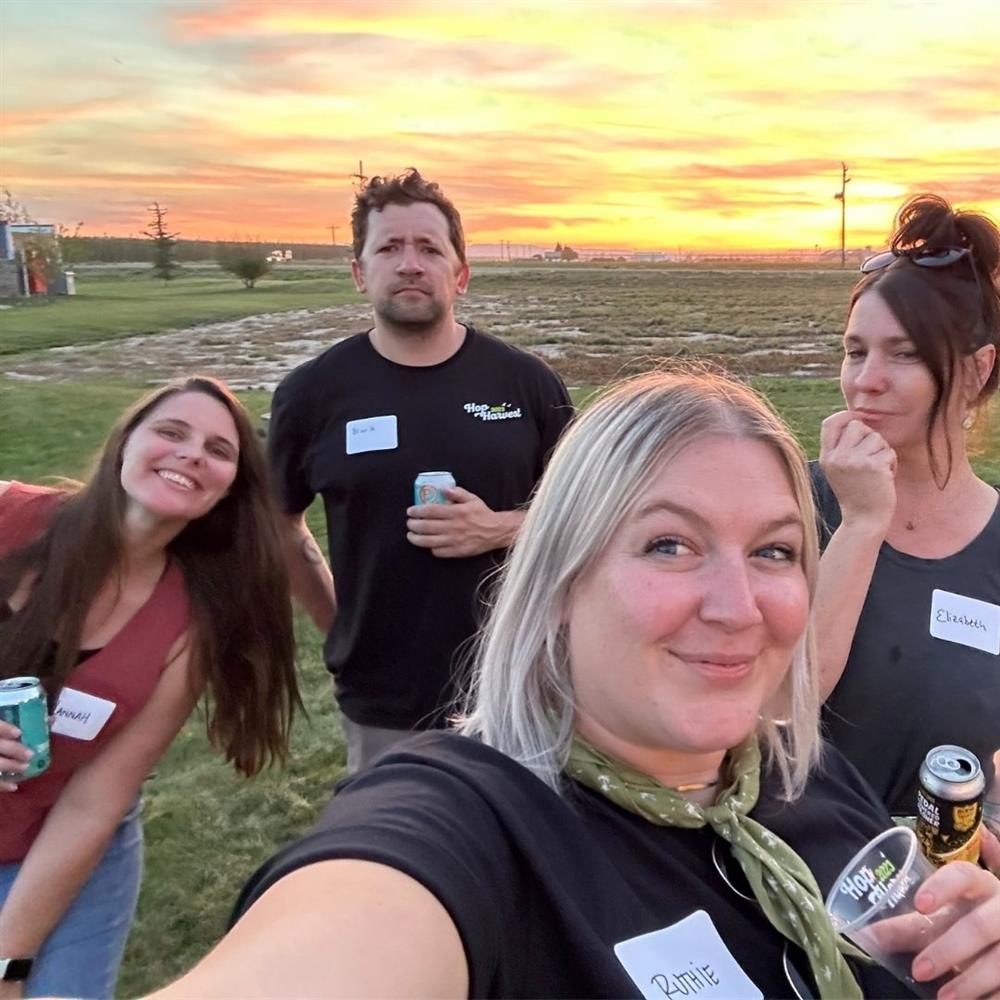 I went out to Idaho Hop Harvest looking for a better understanding of the process of pelletization and hop picking, but what I organically and unexpectedly found was a greater appreciation for the product and a connection to the place and people who use their bare hands to work these machines around the clock to bring us the highest quality hops they possibly can. This connection, this humanizing of hops, reinvigorated a creative spirit within me, and I am so incredibly grateful for each and every person who let me take up space during their busiest time of the year. I have a much greater appreciation for what they do out there, and I will never take another single T-90 pellet for granted again.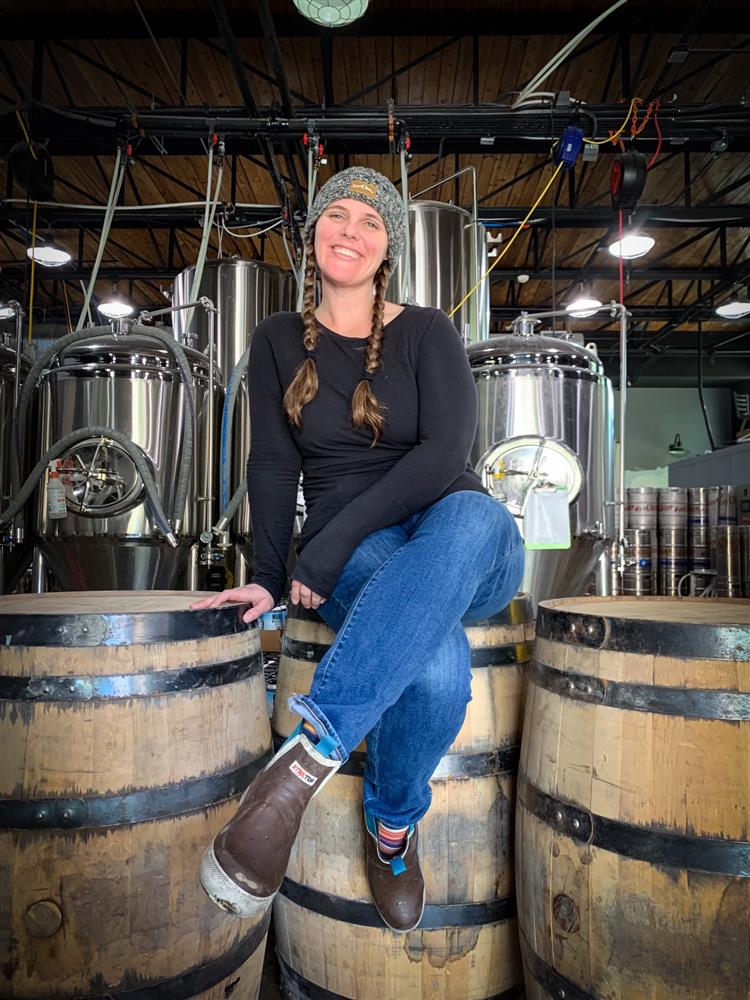 Hannah Ison is the Director of Brewing Operations at Zeroday Brewing Company in Harrisburg, PA. She is a graduate of the University of Kentucky and has been brewing professionally since 2017. She is a member of the Master Brewers Association of the Americas (MBAA) and has been part of the MBAA's DEI task force since its inception in 2020. She serves on the Brewers of Pennsylvania (BOP) Legislative Committee and is a member of the Pink Boots Society. She is the host of a YouTube series "CheersPA" where she traverses Pennsylvania and encourages tourism by promoting craft breweries and other local businesses. She lives in Midtown, Harrisburg, PA with her 3-year-old daughter and their cat, Fuzz. She enjoys hiking, traveling, and soaking up as much live entertainment, (especially around her beloved neighborhood) as she can.